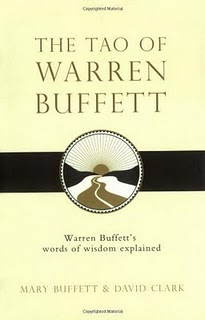 There are generous quotes by Buffett in various books and on the web. This book selects 125 wise quotations with a one page commentary on experiences that led him to form his thoughts into these quotation.
.
I personally find many of Buffett's quotes exposing his intuitive business acumen, words summed up elegantly. They help us all who follow, in seperating good businesses from mediocre ones or carry a deep message learnt over many years of experience. He is special.
.
I have selected a few from this book not in any order.
.
"The great personal fortunes in this country weren't build on a portfolio of fifty companies. They were built by someone who identified one wonderful business"
.
Buffett mentions Walton family in retailing (Walmart), Hearst family in publishing, Mars family in candy, Coors and Busch in brewing.
.
"It is impossible to unsign a contract, so do all your thinking before you sign"
.
Warren forgot to put a noncompete clause in his contract with eighty-nine-year-old Rose Blumkin when he bought her Omaha-based Nebraska Furniture Mart. A few years later Mrs. B. got angry at the way things were being done at the store, so she quit and started up a new store across the street — stealing tons of business from NFM. After a few years of suffering the stiff competition, Warren caved in and agreed to buy her new store for a cool $5 million. The second time he had her sign a noncompete agreement, lucky for him as she lived until 103.
.
"It is easier to stay out of trouble that it is to get out of trouble"
.
When Warren lost nearly all of his 700 Million $ in Wall St firm Salomon Brothers.
.
"It is not necessary to do extraordinary thing to get extraordinary results"
.
We need not try to get rich overnight or in a year. Warren does not shoot for 200% returns per annum but 20% per annum
.
"My idea of group decision is to look in the mirror",  a similar one I recall is "With enough insider information and a million dollars, you can go broke in a year"
.
Warren is not seeking affirmation of his ideas from others. One has to think independently and be comfortable standing alone.
.
"You should invest in a business that even a fool can run, because someday a fool will"
.
Coca cola, Budweiser, Wrigley's, Hershey, Walmart are dumbproof business.
.
"With each investment you make, you should have the courage and the conviction to place atleast 10% of youe entire net worth in that stock."
.
Can't agree more with him. Conviction is based on what you know will happen, belief is based on what you hope will happen. You need to know what you are doing.
.
"Money, to some extent , sometimes lets you be in more interesting environments. But it can't change how many people love you or how healthy you are"
.
Great deal of money will bring misery in your life. Your children are likely to not work, they will not develop self-esteem that work creates. They will wish your early demise, you may end up being surrounded by sycophants who will fill your life with lies to stoke your illusions of grandeur till you look like a fool to the rest of the world. Most of children that inherit lots of material wealth tend to do nothing with their lives. Warren believes a country prospers better if society is a meritocracy.
.
"When a management with a reputation for brilliance tackles a business with a reputation for bad economics, it is the reputation of the business that remains intact"
.
Mediocre businesses are struggling for cash and are loaded with debt. They usually have to rob Peter to pay Paul. Think paper, steel, textile businesses in India.
.
"The reaction of weak management to weak operation is often weak accounting"
.
Self explanatory.
.
"In a difficult business, no sooner is one problem solved than another surfaces – never is there just one cockroach in the kitchen"
.
A business with poor economics is a slow boat to nowhere and makes a lousy long term investment. Auto companies can be lousy as they need to spend billions on retooling. Tata Motors has caught fancy. I wonder sometimes at experts like Shankar Sharma, RD etc going gaga over these scripts. Perhaps trading calls.
.
"You pay very high price in market for a very cheery consensus"
.
If everyone agrees with you that a particular stock has a great future, you are going to have to pay a steep price. Trick is to buy stocks nobody believes in very cheap. Sometimes exceptional Walmart type stocks do create long term wealth despite being expensive.
.
The TAO of Warren Buffett
.
By Mary Buffett & David Clark (2008 first edition) – Part 1
.